Title: The Demon of Anwwn
Author: Ruty Aisling
Source: Requested Review
Genre: Paranormal Romance
Format: eBook; 270 pages
Release Date: August 2, 2011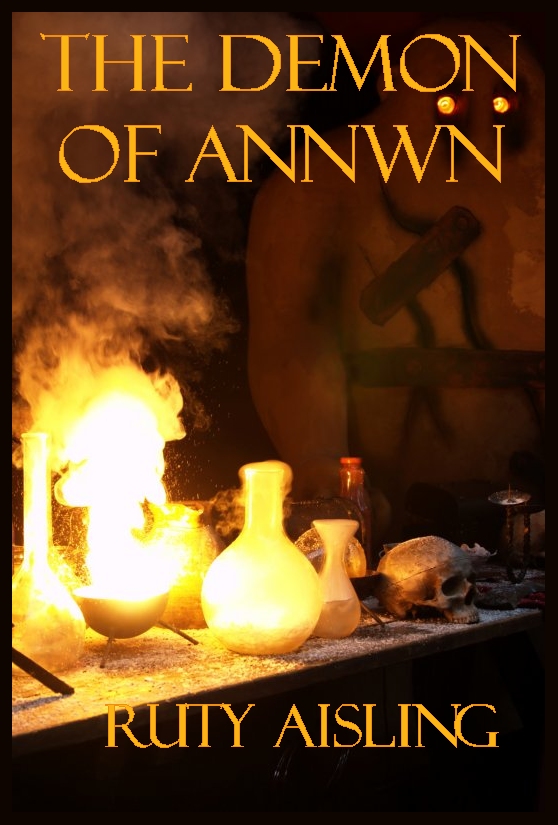 When an immortal evil is evoked in a small New England town to destroy an ancient bloodline Arianrhod Danann and her lover risk more than their lives as they draw on the secret rites of two legendary cultures, those of the ancient Egyptians and those of the Celtic Druids, to defeat it.

After the brutal murder of her Grandmother, Arianrhod returns home only to be thrust into a world of witchcraft and black magic. There she must choose between her life in cosmopolitan Boston, or assume her birthright as the head of a clan of sorcerers whose ancestors escaped the Salem Witch Trails.

Descended from the mythic Celtic race of the Tuatha de Danann, Arianrhod is plagued by erotic memories from a former life in ancient Egypt. Through the combined magical systems of these two vastly different cultures the evil may be confronted. To do this she must decide whether to follow her heart and the man she loves or perform the ancient sexual rite of the 'Dream' with the man she recognized from her life in ancient Egypt. Only this ritual can bring together the forces needed to defeat the shape-shifting demon who stalks her and threatens all of Whitewood.
Rating-
Sexual-
My Review:
Arianrhod, known as Arian to many, comes from a rich history that extends over two very distinct cultures. Visions of a past life plague her just as she receives devastating news that brings her back to her hometown. Thus begins her journey into a world she knew she would eventually embrace, just never expecting to do so as soon as she has.
Overall, I liked this book. The idea of the story is enriched by the amount of history and mythology that was obviously researched to bring it to life. There are times when parts of the story goes into unnecessary details, especially during the first few chapters. This tends to bog the book down at first because a lot of information is being thrown at you; it also seems that a couple chapters seem to jump from one time to another without an easy transition.
Also, If you are looking for a book brimming with romance with the paranormal intertwined, this is not the book for you. The book reads more as an ensemble piece rather than a romance.
Arian is very much the heroine, but there is never a clear hero. There are three men in Arian's life as the story progresses, eventually going down to two, but it's hard to root for one or the other as her true love or even truly see the connections between them. We get snatches here and there, but no real romance involved. The steamy rating stems from two scenes of graphic sex: one scene between Arian and one of the men and another between two other characters.
Right off the bat, I will say this is book one of a series, which is obvious with how abruptly it ends. The story is interesting enough to me that I would like to read the next book to see how it unfolds. There is a lot of promise. If you are looking for a good paranormal story with some romance thrown in, you'll enjoy this book.